Posted by Chuck – July 27th, 2012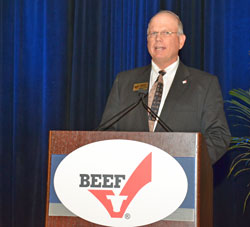 The Chairman of the Cattlemen's Beef Board is Wesley Grau, Cow/calf and seedstock producer from Grady, N.M. During the first general session he welcomed about 700 cattle farmers from around the country to the Cattle Industry Summer Conference.
After the general session most attendees moved to the Joint CBB Business Session & NCBA Federation Forum where the main topic of discussion was a proposed restructuring of the Beef Checkoff joint committees which is part of the beef industry long range plan. I spoke with Wesley just before that meeting started.
Wesley says the summer meeting is an opportunity to talk about the proposed contracts being put in front of the operating committee and talk about the direction the Beef Checkoff needs to go. He says attendance here is great. When it comes to the committee restructuring proposal he says they "are very exciting. They tend to lend us efficiencies and adaptable maneuvers we've not had in the past."
During the following CBB Business Session the Beef Board voted unanimously to approve the committee restructuring proposal. Now we'll wait to see what the Federation does at its business meeting tomorrow.
The four core committees under the proposal are: Domestic Consumer Preference, Global Growth, Beef's Image and Freedom to Operate. It's a major restructuring that if fully approved will take some time to implement.
Listen to my interview with Wesley here: Interview with Wesley Grau
I'm collecting photos from our summer meeting here: 2012 Cattle Industry Summer Conference Photo Album